Kim Alexander established this family owned and operated business in 1997.

It is a high quality building team, in demand, working with the principles of:
•    Professional team
•    Quality work
•    Good work systems
•    Good planning

Growth and demand has been based on 100% word-of-mouth recommendations.  Here are some quotes from customers:
•    "the builder who starts and finishes on time and delivers quality work at the quoted price"
•    "an easy and enjoyable renovation"
•    "easy and pain free"

Kim and the team can help you work through the process of renovating, extending or building a new home.  They can help you decide on design, choice of items and fittings and refer you to other reliable contractors.

A Foreman always on-site allows you to deal with one person, solve immediate problems encountered on-the-job and prevents them from turning into big problems.  Changes along the way can be accommodated without "charging the earth".

We can arrange for you to talk with other home owners who have had work completed by the Kim Alexander Builder team.

The following questions could be used as a guide to discuss the performance of Kim Alexander Builder:
•    Were you happy with the quality of work?
•    Did they start when they said they would?
•    Did they do the job in the time they said they would?
•    Did the job run smoothly, were there any hassles?
•    Were there any cost blow outs?
•    Were there Builder blow outs or Owner extras?
•    Were the extras reasonable?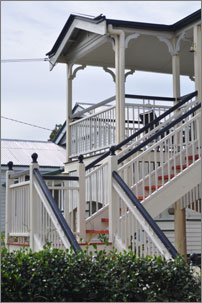 Full gallery of our work including renovations, extensions and new homes can be found here